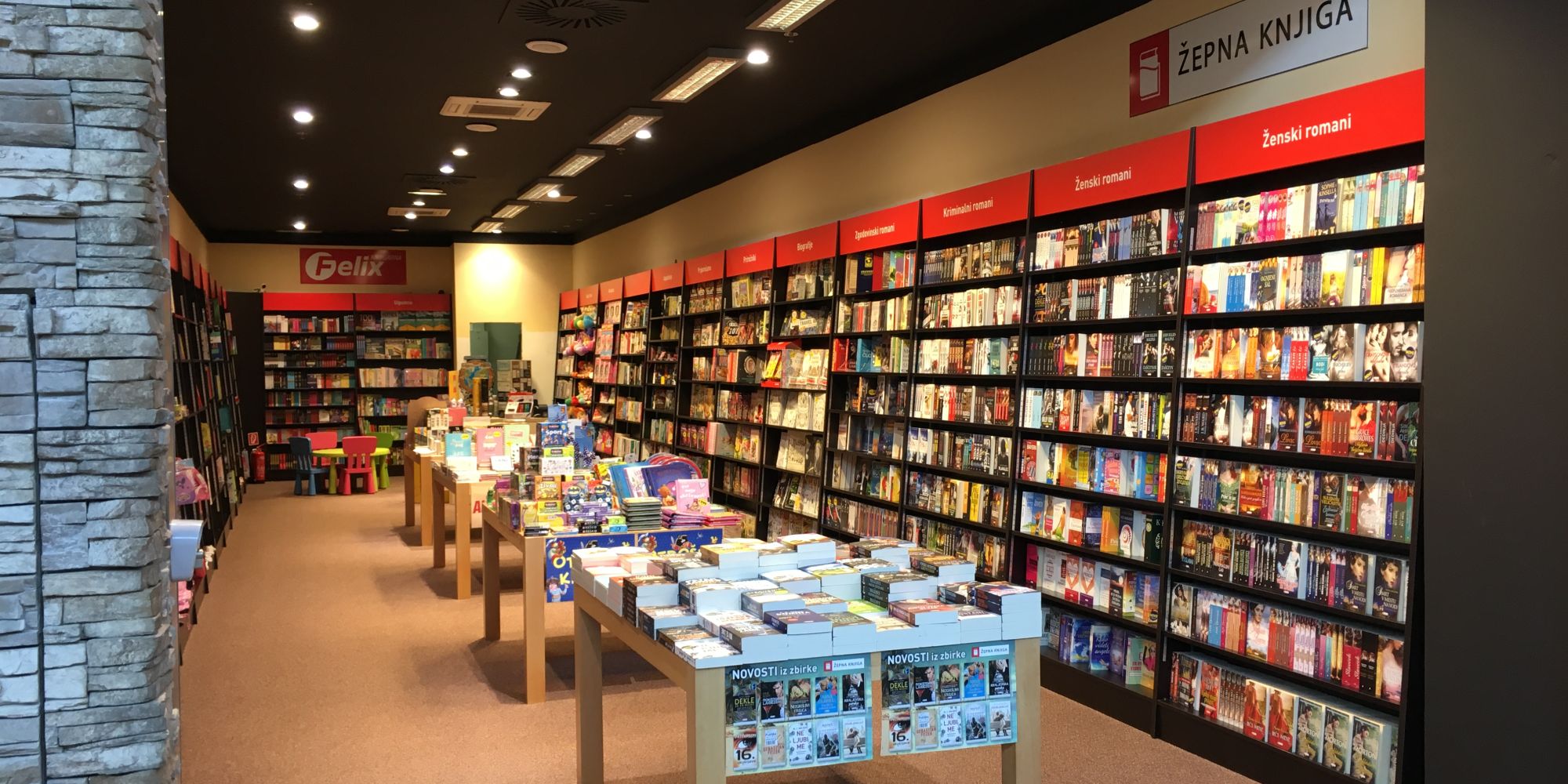 Immerse yourself in bestsellers at an affordable price. Knjigarna Felix pampers book lovers with a wide range of pocket books and other literature, as well as didactic toys and beautiful gifts.
The world of reading is closer than ever at Knjigarna Felix
Spread the wings of imagination! If you're thinking you haven't read a good book in a long time, it's time to visit Felix bookstore at the Supernova Novo mesto shopping centre. In the rich collection of best sellers written by Slovenian and foreign authors, you will quickly find interesting suggestions for your reading. Take a peek into the world of intriguing romances with a love novel or follow a tense story from the first to the last page of a crime novel. Knjigarna Felix brings a great book selection for every taste. On the bookshelves, in addition to literature and poetry collections, you will find manuals on cooking, home, education, creation and spiritual growth as well as a rich selection of children's books, popular picture books, cardboards and educational books. We offer an interesting selection of gifts for every occasion, colouring books, didactic toys and learning aids.
Book lovers cannot definitely miss the wide collection of pocket books, popular best-selling books in paperback format with a soft binding and an extremely affordable price. Among more than 500 titles, you are sure to find quite a few interesting books for summer reading or winter evenings under a home blanket. Take advantage of the 3 x2, 3x1, Book of the Month and Super Price promotions and enjoy reading at an even more favourable price.
Felix – bookstore with a purpose
Felix started its journey in 1994 under the name Učila, mainly publishing children's books and didactic tools. Soon it started expanding into books for adults and young readers, ranging from literature to biographies, educational literature and manuals. Big changes started for Felix in 2002 with the complete renovation of its book programme. With the foundation of the Felix book club and the opening of its first own shop, Knjigarna Felix, Felix became one of the most prominent Slovene publishers.
Today Felix owns a wide chain of bookstores across Slovenia, well-known for its welcoming atmosphere and top choice of books. With literature and educational books at low price Felix is the first choice of many book lovers and occasional readers looking for a good bargain for their summer reading list.