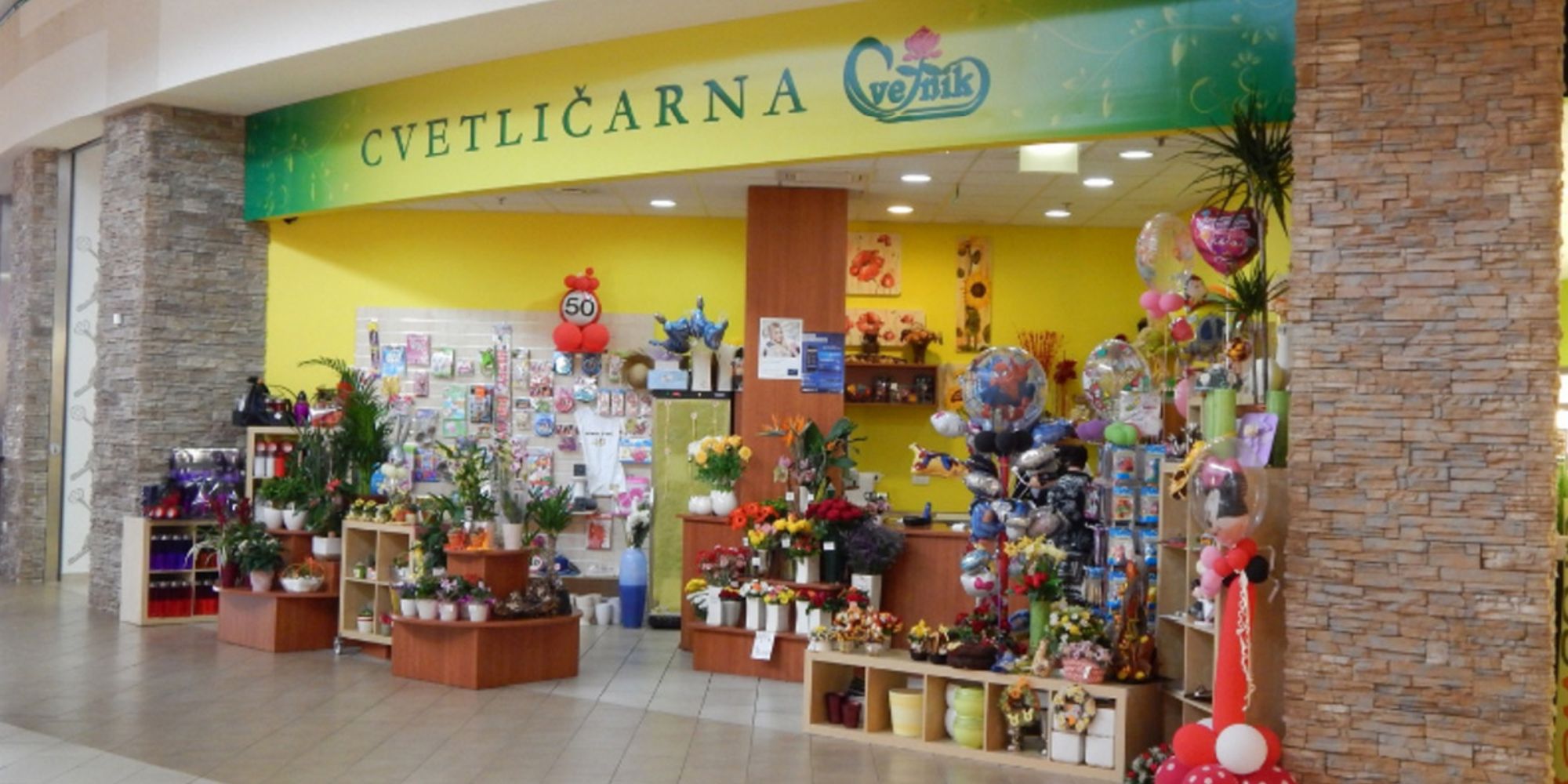 Surprise your loved ones with a dream bouquet of seasonal flowers or an ornamental houseplant. Cvetličarna Cvetnik flower shop also arranges gifts and prepares wedding decorations or mourning programmes. Home delivery of flowers is also possible.
Flowers for every occasion at Cvetličarna Cvetnik
They say that a flower says more than a thousand words, so just visit Cvetličarna Cvetnik, where you will find a bouquet of seasonal flowers and timeless classics such as roses, tulips and sunflowers, or give your loved ones exotic flowers. Cvetličarna Cvetnik at Supernova Novo mesto shopping centre will always serve you with real flowers for every occasion and well-being. Of course, there are beautiful houseplants that will brighten up any room or window sill - from beautiful delicate orchids to beautiful trumpets and other small flowering beauties. When you want your gift to really stand out, Cvetličarna Cvetnik wraps and arranges it nicely. For a real 'wow' effect, the shop employees can also arrange your gift in a balloon!
The experienced florists are true masters of flower arrangements for special occasions. When you are planning a wedding or a larger event, they will prepare an exceptional floral room decoration, flowering arches, bridal bouquets and more, and, of course, coordinate all this with a magical wedding bouquet according to the bride's wishes. You can order rich mourning arrangements and wreaths to say goodbye to your loved ones. The florist also offers grave candles, arrangement sponges, gift paper, ceramic decorative pots and dried flowers.
Cvetličarna Cvetnik – aesthetics of flowers with a heart message
Cvetličarna Cvetnik has been operating in the Novo mesto area and its surroundings since 1994. By moving to larger spaces, the small family flower shop, which initially also operated as a perfumery, quickly became a popular selling point for fresh flowers, quality florist and arrangement services. Today, Cvetnik focuses only on floristry and can be found in two locations: at Novo mesto BTC and at Supernova Qlandia Novo mesto.
At Cvetličarna Cvetnik, they say that there are many opportunities in life that need to be celebrated, even with beautifully arranged flowers. In order not to miss any of these, the florists will help you to surprise your loved ones, friends or business partners with a fresh gift at any time. At Cvetličarna Cvetnik you can order delivery of selected flowers, in the Novo mesto area, every day. Orders received by 11 a.m. will be delivered the same day.