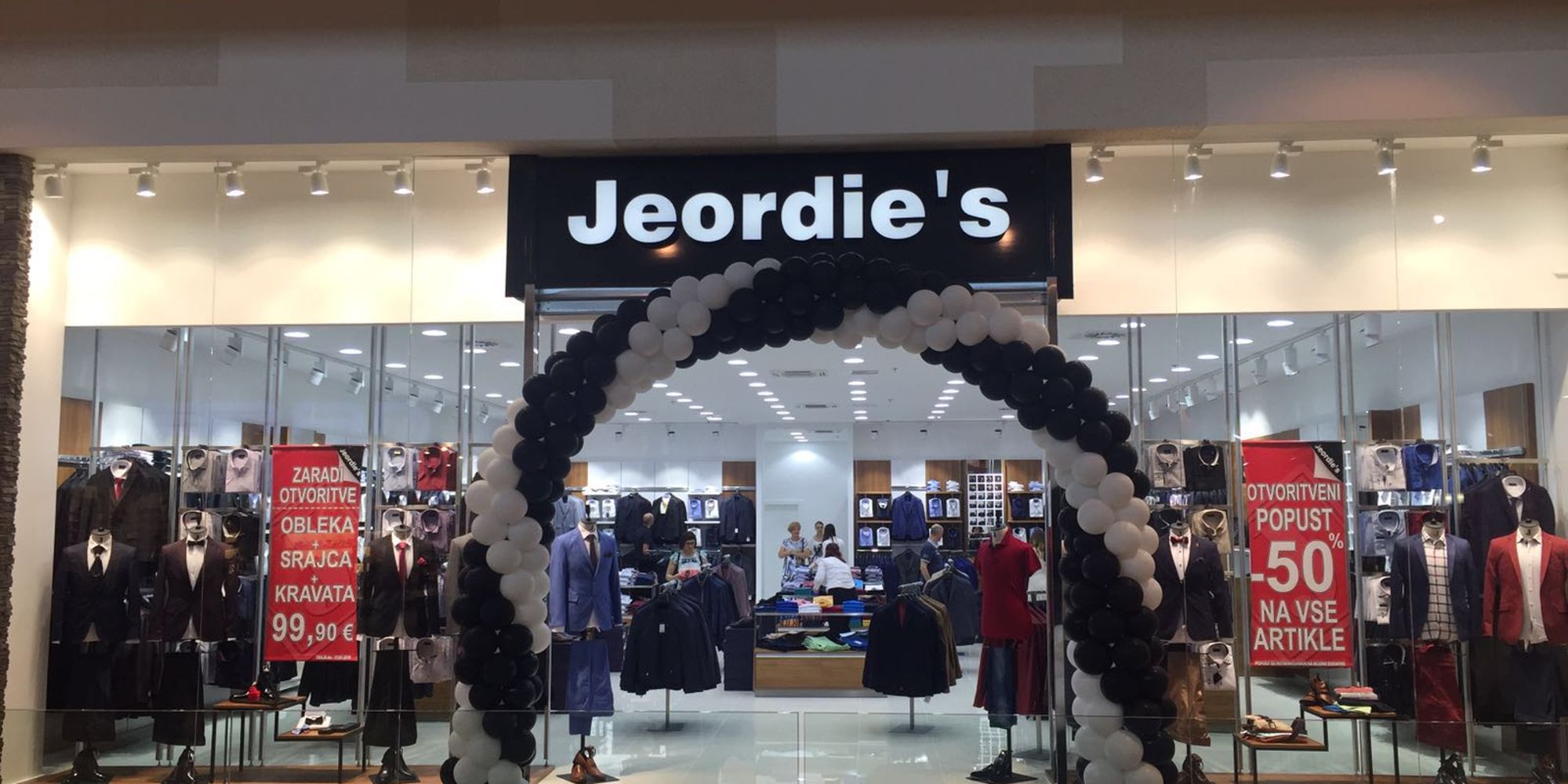 Discover a new classic of men's fashion and express your charm through elegant dresses or sporty elegant garments for every day.
Sophisticated comfort
At Jeordie's store, at Supernova Novo mesto shopping centre, every man will discover something according to his wishes and his unique taste. With a rich offer of jackets, elegant suits and tuxedos, Jeordy's makes sure you leave the best impression at any formal or informal meeting and shine in a wedding tuxedo at a wedding as well. T-shirts with short and long sleeves, jeans, sweaters, knitwear, jackets and coats ensure that you express a sporty and elegant style even in your free time.
When visiting, don't forget about fashion accessories. Complement your outfit with a matching tie and handkerchief, and discover beautiful sets of matching belts and wallets. A handy bag can also help you create a look that leaves a good impression, while the more daring will enthusiastically opth for trousers braces. For a light step, at Jeordie's you can find classic men's shoes for celebrations and business attire, sports sneakers for relaxed moments and boots for the colder months.
A new classic
Men's fashion doesn't change often. That's why Jeordie's brand was created with the mission to bring a fresh breeze to men's fashion offers. Each collection goes beyond trends and makes you discover classic garments with a modern approach that embody the modern man and his vision. In addition to elegant timelessness, all garments are distinguished by high quality, that makes them a constant in every wardrobe. The rich offer of sophisticated clothing is complemented by unique fashion accessories and shoes that will enchant you at every step of the way.
Jeordie's store is part of an international chain that is changing the view on men's fashion around the world. The chain is from Turkey and enters each market in a customized way, thus ensuring customer satisfaction through the offer for each country. At the same time, the company with its new collections ensures that men's fashion is also in step with the times and available to men of all ages and lifestyles.